At Haven Real Estate Group, we've worked hard to build a brokerage where agent's careers could soar. A place that they would enjoy working, where they would feel valued, where they would feel proud to bring their clients and their families to "show off their office".  We wanted a culture and environment that we would look forward to going to work everyday to see our valued associates.  But, don't take our word for it, take a moment to see what our agents say about partnering their careers at Haven Real Estate – Better yet, give an agent a call and ask them directly!
What Our Associates are Saying
"Within two months of moving here, I already had 8 transactions going… and it has just been constant like that ever since… almost like overwhelming amounts. Sometimes I have had to back off because it has been exploding that quickly.
I know, because I was in another firm, that is just not possible with any other firm. There is something very unique at Haven Real Estate, that I honestly do not know why everyone is not here". ~ Elizabeth Sorensen, Associate Broker.
Spokane realtor, Connie Tracy, a former school teacher, shares why she chose Haven Real Estate Group as the place to launch her new career!
Connie has quickly become one of the top performing agents at Haven Real Estate Group, due in large part, to her ability and desire to educate cleints.
"Haven provides lots of weekly training at our meetings, which is great! And also, they are very available if you want one-on-one training, or if you want to focus on something to develop in. Just the ability to talk to anyone around and ask a question of one of the more tenured agents is great! They are always willing to help as well.  It's a lot of fun and it is just great to have a support system all around you. It feels good when you come to work!" ~ Sara Koenig
"The training here at Haven Real Estate Group is just outstanding.  You don't feel like you're alone.  With me being one of the older agents, there was a lot I had to learn… We're a team, so we look out for each other. If I need anything, all I have to do is ask…  and there is always one, two, three or more agents that volunteer to help. We do not compete with the Owners and we don't compete with each other – we're there to help each other!" ~ Pamela Glende, Associate Broker
"My husband and I were clients of Haven Real Estate Group prior to my becoming a Realtor. For me their was no question as to which brokerage I would join.  Upon joining Haven Real Estate Group, I quickly discovered that I have the backing of an amazing team who wants me to succeed as much as I want to succeed.
The leadership here is 100% about my growth and development as an individual and as a real estate agent.  They are not focused on what money they make and they do not compete with me (for clients) – they put everything into me and they really have taken a huge risk to ensure that I have a successful business.
I love the encouragement I receive from my successes, and I love being challenged to continue to grow and expand my horizons. I will be the most successful person I can be because I am pushed to always do better. My husband is so impressed with the ongoing gratitude and enthusiasm I have for amazing people I work with that, he too, has decided to take real estate school and will be joining me at Haven!" ~ Keri McCombs, Associate Broker
Spokane Realtor, Jody Lee, shares why choosing Haven Real Estate Group to launch her career in Real Estate was the best decision for her.
"Robert and Cambria (Owners of Haven)are always there with an encouraging word… they are always there when we need somebody on the phone when we need help with a transaction." ~ Jody Lee
Spokane Realtor, Jo Skipper, shares why she chose Haven Real Estate Group as the place to launch her new career!
Spokane Realtor, Dixie Simon, shares why she chose Haven Real Estate Group as the place to launch her new career! To talk about your career in real estate, call us direct at 509-255-3764.
Spokane Realtor, Amber Tice, shares why choosing Haven Real Estate Group to launch her career in Real Estate was the best decision for her.
"When I first decided to come to Haven Real Estate I was with another company, and one of the hardest things about the other company was that the competition was pretty fierce.  Here at Haven Real Estate Group, it is the complete opposite – they (Owners) want you to succeed as much as they succeed and every success that you have, they take on as one of their successes and you feel it every day with the way they talk to you, the way they support you. It's just a wonderful place to start your business or keep it growing!"  ~  Emily Scheller, Associate Broker
"Haven is a really fun place to work! The teamwork atmosphere here is really authentic. Everyone here is really supportive of each other, and, as we're learning and growing together, we are celebrating each others successes – as well as sharing those pieces of information that has helped us along the way. The team atmosphere makes the culture here very supportive, very fun and very energetic. Haven provides a lot of training that is very useful, especially to a new agent." ~ Jessica Cargile, Associate Broker
"At my old job (Real Estate Brokerage), I felt like I was competing with my Team Leader and other Realtors. Here (at Haven Real Estate Group) it is more like a team aspect. Here, you can be a newbie or an advanced person and you always have room to grow… and that is what they really focus on – Helping you and how you want to grow!
If I was to tell someone who was interested in starting real estate – Go For It! I absolutely love my job. And, coming here to Haven – the grass really is greener on the other side"! ~ Shayla Reck, Associate Broker
"What is great about Haven Real Estate Group is that you have the mentor-ship and the guidance from the Owner and Managing Broker. They don't compete with you for business, so they are there to support you in every transaction. They're there to give you encouragement –  a little wisdom if you need it, and they help you acquire more business. That's one thing that really attracted me to Haven Real Estate Group is the fact that they encouraged growth, not only in your business but in your overall approach to real estate long term." ~ Robert Sherwood, Associate Broker
"Robert and Cambria offer a lot of support and training. And, that is what I was really looking for was someone to have my back. They really show you how to be a leader in your own life. Which, I think really helps a lot because they want you to grow your business and be successful like they have been. It is more of a team environment rather than a competition… everyone wants everyone else to succeed – we all want to be happy!" ~ Amanda Peckham
"The leadership here at Haven Real Estate Group far surpasses anything in any career I have ever been in.  From the get-go, Robert and Cambria had it in their mind for me to grow. Their ultimate goal is for me to be an Independent agent and then have people that I can mentor and teach. So, growth is always on the forefront of their brain and they put it on the forefront of my brain as well.  They are laying the groundwork for me to be where they are and I have never had that before."  ~ Katie Grimm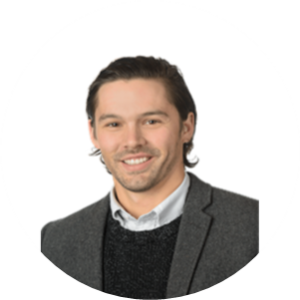 Patrick Martinez, Associate Broker
In my opinion, the greatest benefit to me is the accessibility to support.  Not only are the owners, Rob and Cambria always available to help, we have Jennifer, (our Transaction Manager);  Nicole, (our Marketing Coordinator); and, Larry (our Leads Coordinator),  always willing to help with any questions that we have.